As the world's most visited city, Bangkok is a city loved for its rich culture, food, and entertainment. If you a planning your first trip to Bangkok, this is the absolute MUST DO list.
From elaborate palaces to magnificent temples, local markets to world-class sky-bars, your first week in Bangkok will be packed with choices. Whatever you choose, Bangkok's locals will welcome you with their world famous Thai smile. Let's get it started! Here are 10 places we highly recommend on your first visit to Bangkok:
1. The Grand Palace
Always at number one is the former residence and workplace of King Rama 1 to King Rama 5. This fabulous piece of Thai architecture is a must-see sight of Bangkok. This memorial is a complexion of traditional Thai architecture, Chinese and Western styles dating from the French and Italian Renaissances. The Grand Palace also hosts the Temple of the Emerald Buddha, a magnificent Buddha that dates back to the 14th century.

2. Wat Arun (The Temple of Dawn)
Catch a boat across the river to visit Wat Arun, a masterpiece present on all postcards. Considered one of the most dazzling and most famous Buddhist temples in Bangkok, this 70 meters high monument is carefully decorated with Chinese porcelain and pieces of glowing glass.
Socialgiver Travel Tip
Another possible way to enjoy Wat Arun is from the Riva Arun Bangkok Hotel rooftop. Have a dinner or drinks while admiring the most famous sight in Bangkok. Book a stay at Riva Arun for an amazing view of Wat Arun from right across the river so you can experience the first light's reflection off the surface of the temple with pearly iridescence. When you book on Socialgiver get the best rate, and 100% of profits go to support a music programme for children living in Klong Toey slums.
3. Wat Pho (The Golden Buddha Temple)
Right across the river from Wat Arun, you can appreciate the 46 meters long reclining Buddha that magnifies the uniqueness of this beautiful temple. Wat Pho is the oldest temple in Thailand, built before Bangkok became the capital of Siam. This temple is also a school of Thai medicine, popularized as the birthplace of traditional Thai massage. Today it is Thailand's leading massage school, the perfect place to experience a Thai massage during your afternoon rest.
4. Yaowarat Road (Chinatown)
This is the best place to try Thai-Chinese fusion cuisine and world-famous street food. Walk around the different market stalls and street vendors, and immerse yourself in a spontaneous atmosphere. Most particularly at night, Yaowarat Road turns into a street-food paradise and becomes an amazing spot to explore. Don't forget to bring your camera to capture the candid chaos and a sense of adventure. Closeby is a small street called Soi Nana, where lots of cool local bars have popped up. Check out Teens of Thailand, Tep Bar, or Ba Hao if you'd like a drink.

Socialgiver Travel Tip
To enjoy Bangkok's old town to the fullest and avoid scams, get your Tuk Tuk Hop Tickets online. Your on-demand Tuk-tuk for up to 3 persons will take you across all the spots highlighted above and to many more, including Museums, Palaces, Temples, and Riverside malls. Get the best rate on Socialgiver and 100% of profits go to support forest rangers protecting Thailand's most threatened forests and wildlife.
5. Chatuchak Market
Chatuchak weekend market is the world's largest outdoor market, hosting more than 8,000 stalls on 35 acres. Get lost in this shopping paradise and discover all kinds of goods, from clothes to pets to souvenirs and everything in between. If you find something you like, don't wait to buy it later because probably you won't find that shop again. The best way to visit is via MRT (Chatuchak Park Station) and BTS (Mo Chit Station). Expect to spend at least half a day here.
6. Talad Rot Fai (Train Market)
There are two major train markets you can choose from, the larger one in Srinakarin (behind Seacon Square) or the closer one in Ratchada (behind Esplanade Mall). You'll find endless varieties of food, clothing, souvenirs, and cool local bars.
7. Sirocco Sky Bar
Popularized by the infamous Hangover Part II, Sirocco is one of the highest sky bars in the world, at more than 800 feet in the air, enjoy a drink with a fabulous 360° view of the city and its skyline overlooking the Chaophraya river on one side, and the central business district on the other. However, we must warn you that drinks a quite pricey and you must abide by their dress code to enter. Great alternatives are Vertigo and Moon bar at the Banyan Tree, Red Sky at Centara Central World, and Above Eleven at Sukhumvit Soi 11.
8. Muay Thai
Muay Thai, also known as Thai boxing and the Art of Eight Limbs is an ancient martial art born in Thailand. You can watch the award-winning Muay Thai Live choreographed show at Asiatique Riverside mall or live boxing matches at Ratchadamnern Stadium.

Socialgiver Travel Tip
Why not try your hands at Muay Thai yourself and get some exercise on your holiday. Get your first lessons on Socialgiver at a special price (1:30 hour beginners group class) at RSM Academy and 100% of the profits go to help treat children born with disabilities.
9. Jim Thompson's House
A wonderful art collection hosted in the former home of an American who started the Thai silk industry, Mr. Jim Thompson. This jungle in a busy city continues today as one of the most popular museums in Thailand housing historical Buddhist statues, Thai Paintings, Chinese Porcelain, and artifacts from Myanmar, Cambodia, Laos, and beyond.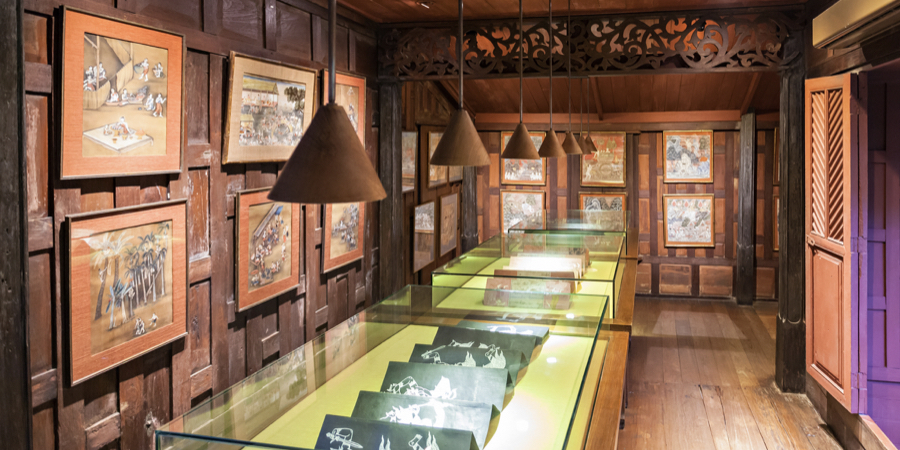 10. Lhong1919
A Sino-Siamese Heritage site built since 1850 during the modernization of Siam along the bank of the Chao Phaya River. Lhong1919 was once an old Chinese style steamship terminal, where countless Chinese diasporas first set foot in the Kingdom of Siam. Today it is under restoration to showcase the old paintings and furnishings of a once bustling market, and hosts the Mazu Shrine – the goddess of the sea, protecting fishermen and seafarers – which was brought on a boat from China and have been enshrined and worshipped here ever since. Other community spaces worth visiting include Tha Maharaj and Chang Chui.

Socialgiver Travel Tip
Chao Phraya Tourist Boat offers a one-day pass, where you can hop-on hop-off between Asiatique, BTS Saphan Taksin, Lhong1919, Wat Arun, Tha Maharaj, Phra Arthit Road, and more. This unique mode of transport will show you Bangkok from another perspective. Get your tickets on Socialgiver at a discounted price while 100% of profits go toward training programmes to prevent young children in rural Thailand from drowning.
Did we miss anything? Let us know what else you think should have made it on this list!
Don Kai Dee Benjarong is a place known for passing the porcelain technics down from generation to generation. This village gathers together a group of local villagers who use their knowledge to create beautiful pieces of art…
Whether you need to surround yourself in nature or dip your toes in the warm sand or have a fine night out – Thailand surely have you covered with local spots…
From Boutique Hotels, to 5-Star Services to exotic views and private luxuries right in the heart of Bangkok City, we have for you the following options…
At Socialgiver, we're always looking for ways to make the biggest impact possible – and we're searching for people with that same life mission to join our journey.
As a special fundraiser during this period, Six Senses Hotels Resorts Spas has joined Socialgiver to offer a range of extraordinary gifts for those who wish to give back with us.
Six Senses Experiences gifts for you when you donate
1. Join Our Top Chef Online Cooking Classes (with Six Senses Master Chefs)
2. A Wellness Weekend Retreat at Six Senses Yao Noi
3. A Wellness Weekend Retreat at Six Senses Samui
4. An Immunity SOS Care Kits (hand-crafted immunity boosting tonics and tinctures)
Aliza Napartivaumnuay announced that she has been selected as part of the inaugural cohort of Obama Foundation Leaders: Asia-Pacific, a cross-section of 200 emerging civic leaders from 33 nations and territories in the region…
Enjoy hearty meals from our top pick restaurants in Bangkok while supporting meaningful work that projects are pouring their hearts into…
Socialgiver, award-wining Social enterprise, is Hiring! We're expanding our team along with the greater impact in Social sector in Thailand.  If you're interested in working with enthusiastic and energetic people who are aiming to create sustainable impact.
What jobs suit you  best? Send your CV to  info@Socialgiver.com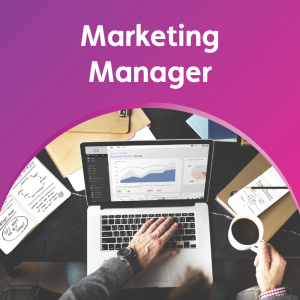 Marketing Manager
 Duties and Responsibilities
1. To generate revenue for Socialgiver through campaigns and events
– Online & Offline campaigns and events
– Preparing and organizing promotional materials for campaigns and events
– Determine and track marketing performance of various experiments against key performance indicators to determine ROI of each marketing activity – leading to a scalable marketing plan
2. Build relationships with Socialgiver's partners
– Creating leverage to reach new customers through win-win campaigns
– B2B GiveCard sales, donation matching gifts, and other premium items
– Running joint promotions with partners and reporting achievements
3. Creating partnerships with social media pages, publications, influencers, celebrities, and other channels to share content
– Launch creative and collaborative online and offline campaigns
– Press Releases and PR campaigns
– Celebrity and influencer marketing
This role requires a collaborative mindset: to build relationships and launch campaigns with partners to reach our target audience and optimize the path to revenue.
Product Owner
Duties and Responsibilities
1. Leading company-wide product innovation
Evaluate data and insights to set strategic direction of the site/apps based on customer needs and business goals
2. Converting strategic goals into operational tasks
Establish timelines and product benchmarks
Develop data and analytics roadmap and reporting to the team to keep track of progress
Defining navigational flow and user experience on the site, apps, etc
3. Keep track of conversion funnel from awareness to retention
 In this position, you will be responsible for driving and defining the launch of new products and services within our company. You should have a solid grasp on data analytics, strategy, and Agile methodologies in order to deliver a high-quality product to increase company revenue.
Partnerships Development
Duties and Responsibilities
1. Sign up new partners, including hotels, restaurants, activities, and others
Identify leading brands with potential to join Socialgiver
Offer Socialgiver's service as a CSR/promotion solution
Create a GiveCards to promote to customers
2. Maintain relationship with businesses
Help promote GiveCards and acquire new customers
Collaborate on new campaigns with key business partners
Report marketing and impact results achieved
This role requires a consulting mindset: as a trusted expert in CSR, you will help partners create an impact in an effective and sustainable way through engaging customers.
Social Impact Manager & Fundraiser
Duties and Responsibilities
1. Identify effective social and environmental projects with potential to scale
Assess and interview projects for Socialgiver to support
Develop a method to assess the project's impact
Propose the funds required, and activities required to achieve optimum impact
2. Provide support for projects
Offer insights that can help projects improve their processes and achieve their goals
Work with projects to help raise awareness and funds for their cause
Identify opportunities to raise additional funds for projects, including grants, B2B sales, and sponsorship
3. Social Impact Assessment
Review reports from the project and summarize data gathered to be updated on Socialgiver's website
Gather stories from the ground of the impact created for communication to sponsors/funders
Develop a standardized method of social impact reporting to summarize and communicate social impact generated
This role requires a consulting mindset: as a trusted expert in social impact, you will help projects identify key activities and raise awareness and funds for various causes.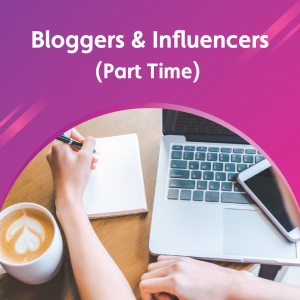 (Part Time) Bloggers & Influencers
Duties and Responsibilities
1. To create and build engagement for Socialgiver's Lifestyle Blog as a community for living socially conscious lifestyle
(Key theme: Lifestyle + Travel + Social good) in Thai and English.
Content planning
Manage volunteer writers
Editing submitted content for release
2. To expand Socialgiver's communication channels and increase reach
Content marketing for Social Enterprise sector
Build a strong newsletter base
Create partnerships with print and online media for content sharing
Manage social media channels
3. To analyse and improve the quality and results of content marketing activities
SEO for Social enterprise
Facebook Ads
Set relevant and measurable KPIs
This role requires a brand publisher mindset: to create the content our audience is looking for and then to optimize the path to revenue. You should have at least 30K followers with high engagement.
Don't Miss the chance to work with leading Social Enterprise in Thailand! Send your CV to us Via
info@Socialgiver.com
Load more posts