The Land of Smiles has been a tourist favorite for decades. With so many things to do in Thailand that suit every taste and budget, it's no surprise that so many visitors swear they leave a little bit of their heart in Siam! From jungle temples to balmy tropical beaches you'll find romance, relaxation, adventure, and culture. Make the most of your journey to this Southeast Asian hotspot, read on for the fifteen items that need to be on your "Thailand to do List".
Spend Some Time in Bangkok
Known affectionately as "The Big Mango", Bangkok is the heart and soul of Thailand. You won't find a more eclectic and vibrant place, full of world-class food, exceptional shopping, inspiring architecture, the best rooftop bars and the iconic Khao San Road. You can also get a heavy dose of traditional Thai culture with local cooking classes and a tour of Bangkok's temples. There are so many things to do in Bangkok at night and during the day. Stay on Sukhumvit or Silom for easy access to Bangkok's BTS Skytrain and make the most of your time in the capital!
Ring in the New Year in Style

Bangkok is the cosmopolitan hub of the Southeast Asia, so it should come as no surprise that there are some amazing things to do in Thailand on the New Year's Eve right in the heart of the capital city! Check out posh sky bars and clubs that host incredible parties to ring in the New Year in style. For less than a 1,000 baht ($30 USD) entry fee, you'll find yourself in the company of sophisticated merrymakers. Check out Vesper, Glow, Above Eleven, Levels, NARZ or Lebua of Hangover 2 fame!
Learn a Fierce New Skill
Thailand is the home of Muay Thai, an intense martial arts discipline that takes years of training to perfect. Many people are curious to check out professional Muay Thai matches while in Bangkok (And you should!). But if you want the real experience, just get into the ring!
There are plenty of academies that offer Muay Thai classes and training to novices. You might discover a brand new skill that you never knew you had! Don't miss the opportunity to train with the absolute best.
Feast on Amazing Street food
The best food you'll find in Bangkok isn't in restaurants. It's the spicy and richly flavored of Som Tam and other local food you'll find from the street vendors that gather around Bangkok's busiest streets. From freshly plucked pineapples, mango and dragon fruit to crisp and juicy pieces of fried chicken, Bangkok's street vendors are your best culinary friends. Grab yourself a local Singha and stroll down the streets of Thong Lo, Asoke or Nana for tasty treats that you won't find anywhere else in the world!
Let Yourself be a Kid Again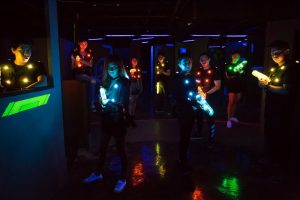 Take a break from the heat and unleash your inner child at Siam Laser Games, a fun and athletic way to let off some sweat while playing the laser tag. When was the last time you ran around and played tag with your friends?
Siam Laser Games is a fun and unconventional way to spend a steamy summer afternoon away from the blazing tropical sun.
Bring your friends, or join an existing team.
Check Out the Island Life
There aren't many places in the world that have the calming and restorative power like in the beautiful islands of Thailand. Whether you're visiting the Andaman side or chilling out in the Gulf, staying at these beautiful tropical beaches are some of the most popular things to do in Thailand. Find yourself some sand, surf and an island vibe on your next visit to the Land of Smiles!
Don't Miss the Full Moon Party
Make your way to the Gulf of Thailand for Koh Phangan's legendary beach party that rolls around once a month and is one of the most highly anticipated events in Thailand. One of the best things to do in Thailand, the Full Moon Party, has something for everyone. Fire dancers and jugglers perform to the sounds of reggae, house, techno and trance music under a clear, star-filled sky.
Don't Miss the Amazing Andaman
Th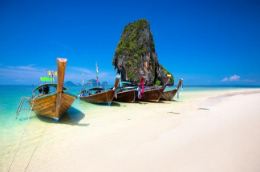 ailand's Andaman side has some of the most breathtaking and gorgeous scenery in the world, with giant rocks jutting out of clear blue bays, jaw-dropping cool jungle waterfalls and long white beaches dotted with palm trees. It's no wonder that visiting the islands of Krabi and Phuket are among the top most sought after things to do in Thailand for your honeymoon. Spend your days on Phuket's spectacular beaches, take a long-tail boat out to the warm ocean and savor some incredible seafood. It's simple to island hop around the Andaman, so set aside some extra time to explore less popular destinations and really soak in that island way of life!
Get Out of Town
You've spent a few days in Bangkok, bounced around the islands of the Andaman and spent an unforgettable night on Koh Phangan for the Full Moon Party. Now it's time to grab a minivan, bus, or train and get out of town. Don't leave Thailand without getting a taste of an authentic Thai experience. Leave the Big Mango and head north, east or west and see why Thailand's smaller cities and towns have so much to offer!
Cycle around the Ancient Capital
Ayutthaya is only two hours north of Bangkok, easily accessible by minivan or train. You can even take a taxi for roughly 1200 baht from downtown Bangkok to Ayutthaya's "Soi Falang" (Foreigner Street).
Ayutthaya is one of the ancient capitals of old Siam and it's full of magnificent ancient ruins and temples. The city itself is on an island and easily navigated by Tuk-Tuk or bicycle.
The locals will provide you with detailed maps and instructions on where to go. The temples are mostly free, but there are a few where you might have to pay a small amount (50-100 baht). Many travel agencies and guesthouses also offer evening boat tours on the Chao Praya River. It's well worth it to check out the ruins by sunset! When you're finished taking in your cultural fill, spend some time on Soi Falang, having a cold Chang or a pizza from Earth Bar.
Visit the River Kwai
History lovers will not want to miss a trip to Kanchanaburi where the infamous bridge over the River Kwai is located. There are plenty of memorials and a museum dedicated to the prisoners of war who toiled over the bridge. Pay your respects to the lost, then visit the quaint and lovely town of Kanchanaburi, situated riverside. Kanchanaburi is a welcome respite from bustling Bangkok. With Socialgiver, you can even spend the night on the famous river in a wonderful, fancy bouquet hideaway at the Floathouse while 100% of the profit from the purchase will go towards funding Love Wildlife Foundation!
Monkey Around in Lopburi
Known affectionately as "Monkey City", Lopburi is an off-the-beaten-path tourist hotspot. Jump on the train from Bangkok, and three hours later you'll find yourself in the heart of the "Monkey City". It's advisable that you stow away your cell phones and flashy jewelry before approaching these precocious primates, who've been known to steal and run off with valuables. If you're brave enough, buy a bag of food at the temple and hand-feed the creatures. Most of them are relatively tame and accustomed to people, but they may decide to jump on your shoulder as you're leaning down. The Monkey city is not to be missed!
Spend Some Time in Chiang Mai
If you take that Bangkok train further north, you'll find yourself in Chiang Mai, the second most popular city in Thailand. Chiang Mai is much calmer than its frenzied southern counterpart and has a distinctly hippie vibe.
Visitors to Chiang Mai love the day and night markets, Lanna architecture, cool mountain air and northern delicacies like spiced sausage.
Chiang Mai is located in the northern jungles of Thailand, so there are plenty of opportunities to go elephant trekking and zip lining at a special price. Spending time in Chiang Mai is also one of the more preferred things to do in Thailand on New Year's Eve for those who dislike the Bangkok club scene.
Make the most of your time in the Land of Smiles by taking advantage of all the incredible and once-in-a-lifetime things to do in Thailand! From the busy streets of Bangkok, you can ring in the New Year in chic city style, learn Muay Thai and sample street food. Visit the pristine beaches of the untouched islands of the Andaman and smaller cities and towns. You can be assured, Thailand has something for everyone