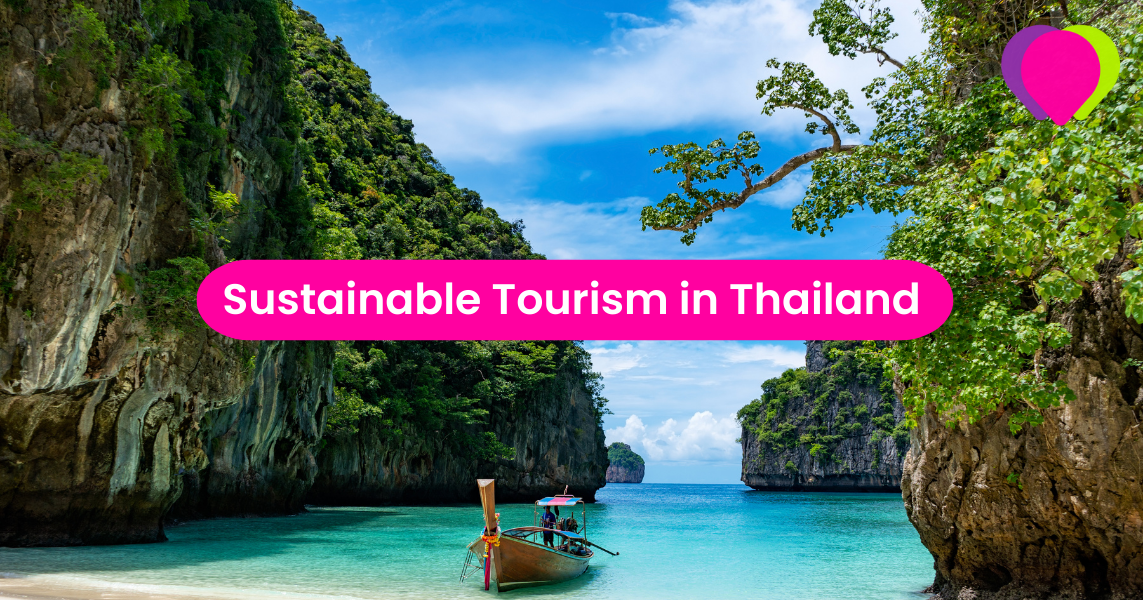 Thailand, "Land of Smiles", is one of the most renowned tourist destinations in the world. There are so many incredible places to visit, whether it's backpacking through the mountains of the North, snorkeling in the tropical islands, or experiencing the bustling city life. No matter where you are, you'll always discover something new.
Besides the loads of fun you'll be having, however, it's important to treat the environment around you well as well. Meaningful Travel is important in order to maintain strong tourism around the world all while protecting our green spaces. Especially when you're visiting Thailand, there are a lot of social and environmental factors that you should be aware of — here are some tips for your next vacation here.
#1. Public Transportation
If you're in the city, be sure to use the public transportation that's provided here! There are so many ways to get from A to B using the BTS Skytrain and MRT Metro. As opposed to public transportation in America, I can attest that the BTS and MRT are much safer, cleaner, and extremely easy to follow. There are also BTS stations everywhere, so you'll always have one nearby for your convenience. Best of all? You're reducing the number of carbon emissions that would've been used on a motorbike or car. So, save yourself from sitting in the city traffic for hours and take in some pretty great views from the Skytrain!
#2. Limit Your Plastic Use
Lower your carbon footprint and increase your efficiency! You'll be shopping and buying lots of food in Thailand, so the next purchase you make, say no thanks to plastic bags. Try to bring a reusable bag with you whenever you go out so you can put everything into that bag. Or, put all your purchases into one plastic bag — there's no need to get a new one for each item you buy!
Another way you can limit your plastic use is by keeping utensils and reusable straws with you. If you think about all the times you'll be eating out and trying new drinks, that's a lot of plastic used! Even by using a reusable straw, you're still doing a lot toward decreasing the amount of plastic pollution in the environment. Small actions like this can make a huge difference.
#3. Support Local Businesses
Aside from the ginormous shopping malls here like Iconsiam and CentralWorld, it's always a good idea to support the local markets around here. Compared to large companies, these local businesses have a much smaller carbon footprint and are more accountable to the community.
By supporting smaller businesses, you're also supporting your community. Furthermore, you'll have the opportunity to try and find unique things that can't be found elsewhere! It's not uncommon to enjoy street food and shopping markets more than the malls in Thailand.
#4. Visit Ethical Animal Sanctuaries
If you're itching to see some elephants, monkeys, tigers, and other wild animals, you're traveling to the right place! But please don't book a ticket to ride an elephant or see a tiger jump through a ring of fire. Instead, consider more animal-friendly options. Too often, animals in Thailand are simply used for a profit, and behind closed doors, they're treated extremely poorly. Luckily, there are thousands of animal conservation organizations that you can visit! These sanctuaries give tourists a chance to see animals all while rehabilitating them. So, the next time you want to visit some animals in Thailand, do some research beforehand to make sure you're supporting a reliable and eco-friendly organization.
#5. Check out Socialgiver!
Socialgiver is a non-profit organization that aims to create a more sustainable and green planet, and we offer something truly special. When you purchase a package on Socialgiver, you're not only saving money, but also supporting a social cause that could be education, covid relief, health, the environment, and more — at no additional cost to you! Whenever you buy from the Socialgiver website, half of the profits from your purchase will be donated to one of our social projects, which could be Covid Relief Bangkok, Thailand Recovery Fund, the Sati Foundation, and more. You can do good on a daily basis all while enjoying the food, culture, and beautiful destinations in Thailand.
In Thailand, you can find new things to do no matter how many times you visit — that's what makes it so amazing. Actively seeking ways to be more friendly towards the environment is a huge step toward a better, more sustainable future.
This blog was written by Socialgiver intern, Linda Shen.
Connect with us!
Facebook: Socialgiver
Instagram: Socialgiver
Line: @Socialgiver
Website: www.socialgiver.com
Application: https://socialgiver.page.link/blog